This short blog takes you through some of the steps to allow you to create model checking reports using one of the free tools available to all Revit users. This process could aid with model auditing and validation processes as part of your BIM Execution Plan, company standards or ISO 9001 quality management process.
This guide gives you an overview of one of the tools available as a free download to aid on the production of elemental information and model delivery. Firstly the tools are available either through your Autodesk Desktop App or from the BIM Interoperability tools website below. The access to the tools through the Desktop App is a relatively new addition and will be pushed through this interface from now on.
http://www.biminteroperabilitytools.com/
Once installed, within Revit you will be given access to the following toolbar under its own tab:

The focus of this blog will be the Revit Model Checker and in brief, how this can be used to help auditing a model or checking parameter data. If we review the tools that are available on a clean installation first:
There are a set of rules that are available to use straight away, with some key rule sets that may be of interest which include the Revit Best Practice tools and General COBie Rule sets or Model Fidelity checks.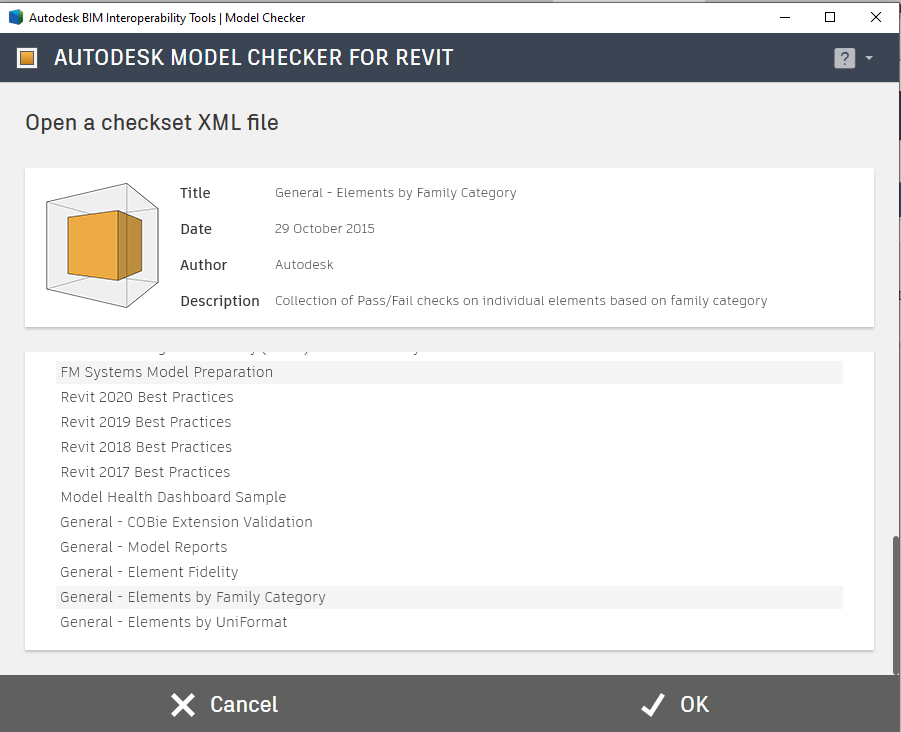 These can be loaded and run against your current project in which you can then gain a report to illustrate where your model is not complying with the rules. More on outputs shortly.
Rulesets can also be created for individual models or by your organisation as validation standards using the Model Checker Configurator. See our separate blog on how to create simple rules using Model Checker Configurator Wizard for more details.
Once you have opened a rule set you will be able to select which rules within that set to run alongside a brief description of the rules themselves (Example- Revit Best Practice Ruleset below):

Once you have the rulesets selected you can run the rules on not only your live project but also any of the associated model links in the project also using the following dialogue box. This also allows you to add models within a project file or associated files from different disciplines should you wish to: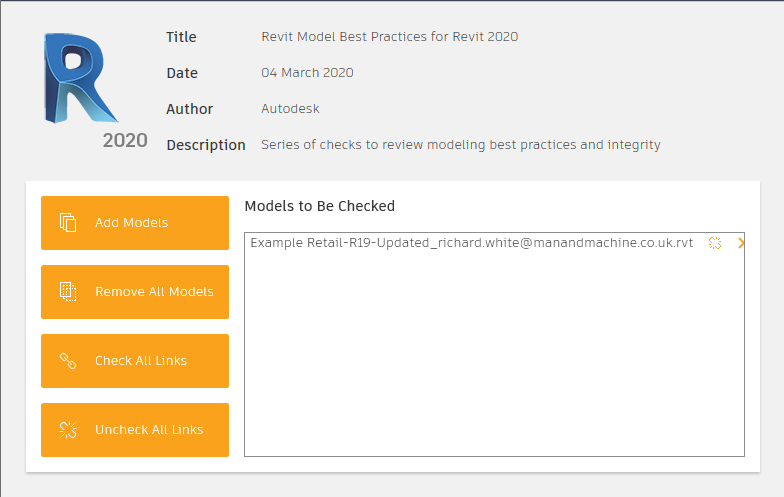 We can then run the report on the model file(s). This may take a little while depending on the size of the file. Allow the tool to work through each of the rule checks and eventually you will be provided with a report that can with levels of pass and fails within the model. You will then have the opportunity within the dialogue to be able to investigate the pass/fail results as well as being able to export this to a HTML document, Excel document or copy the text allowing you to insert it in to a Word report as an example.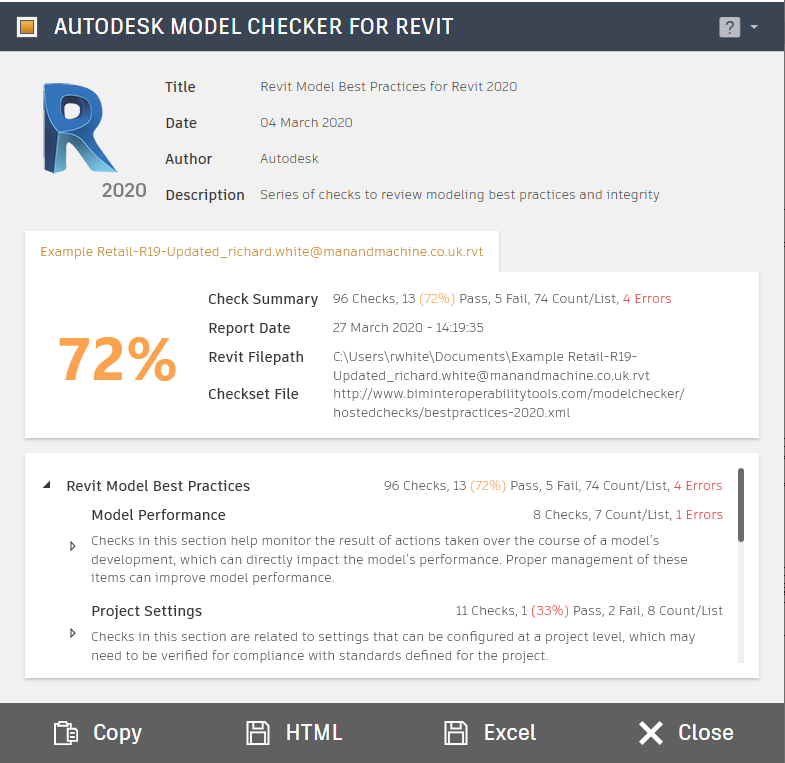 If run regularly, this tool can be used as a health check and quality check against your projects as well as providing an audit report to allow teams to rectify issues and mistakes periodically throughout the design delivery project as opposed to leaving everything to the date of delivery. Using this tool provides a free solution to capturing your validation process with simple setup and roll out to help you comply with your Quality Assessment processes.
Should you require further details on how to utilise this tool or how you can leverage the results within your organisations quality management procedures, then please complete the below form and someone will be in contact with you: