Latest information from the UK BIM Alliance as they have updated their ISO 19650-2 Guidance Document to version 4 however this has followed very quickly from version 3 in January so this blog will explain all the new updates from both version 3 and 4.
The UK BIM Framework have released the fourth edition of Guidance Part 2: Process for Project Delivery to support construction professionals in implementing and delivering Digital Construction with Building Information Management.
The UK BIM Framework Is the overarching approach to implementing BIM delivery in the UK, developed by the UK BIM Alliance, BSi and CDBB. The provided guidance acts as a co-ordinated approach to explaining the processes and management of information using ISO 19650 standards and more specifically this guide updates the previous guidance around ISO 19605-2.
The third edition of the guide provides:
Further analysis of ISO 19650-2 Clause 5 and inclusion of some new content around clauses 5.5, 5.6 and 5.7.
ISO 19650-2 resource summary and resource map
General updates on Information Requirement Deliverables around Organisation Information Requirements (OIR), Asset Information Requirements (AIR) and Project Information Requirements (PIR)
Further information on the purpose and requirements of the BIM Execution Plan.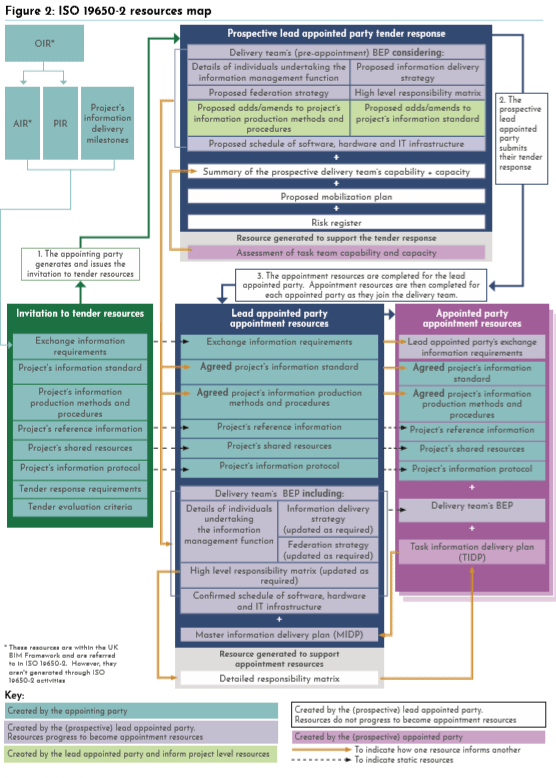 The fourth edition of the guide has added to the previous update by including these new additions:
New core guidance about Information Requirements – written by Emma Hooper explains the important connects around information management and the requirements placed within OIR, AIR and EIR documentation. Explanations about the principles of creation of these key documents with some examples for production and communication of ideas from a client or client representatives' perspective.
New core guidance around level of information need – written by Maria Bolpagni this section explains the new aggregated term for defining quantity, quality and granularity of information requirements including providing the right levels of request to ensure the correct information is delivered.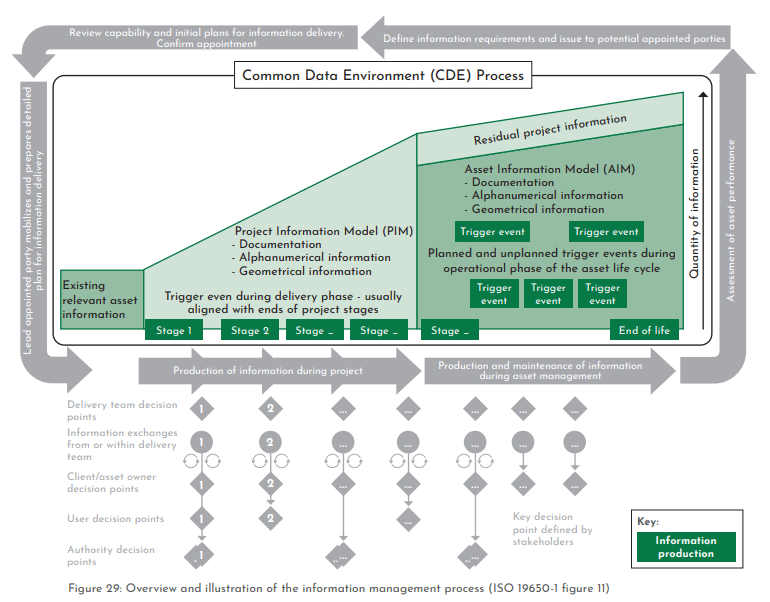 New core guidance around information delivery planning – written by John Ford, this area focuses on the information delivery cycle and more specifically the need for planning the delivery of information to improve efficiency and eliminate potential delivery risk in the information exchange. This would include key documentation such as Task Information Delivery Plans (TIDP) and the compiled Master (MIDP), Information Release and Responsibility Schedules which can be key in the planning process. These have a clear place within the ISO19650-2 information cycle.
New core guidance around open data and buildingSMART involvement in the UK BIM Framework – co written by Dan Rossiter and Emma Hooper this final new section focuses on the importance of utilising open formats to generate an inclusive working team allowing for delivery on different platforms but centres on open data formats such as IFC and BCF. Much of this is governed by International Standards and managed by buildingSMART with this guidance section explaining how these can be incorporated as part of the delivery requirements.
As this guide continues to evolve and gets updated on a regular basis, along with other guides on the UK BIM Framework site, construction professionals should utilise this worthwhile resource as an aid for BIM implementation and delivery.
Man and Machine are platinum patrons of the UK BIM Alliance so are regularly involved in projects and discussion groups with other companies and influential leaders within this group.
https://www.ukbimalliance.org/
https://ukbimframework.org/wp-content/uploads/2020/05/ISO19650-2Edition4.pdf
Should you require further details on the UK BIM Alliance or UK BIM Framework guidance regarding consultancy, management, implementation, or delivery, then please contact the team at Man and Machine for further advice.
For more information on this blog post or if you have any other questions/requirements, please complete the below form: