Something that I have seen become exponentially more used inside of BIM 360 Docs over the past year have been issues. With this use the updates to Issues have meant that they are better than ever for managing lots of situations than ever. A new function that makes it even easier to manage field issues is Construction IQ that I wont go into, but in a nutshell will allow managers to get feedback on issues on site and weed out sub-contractors that are potentially high risk.
What I will discuss in this blog is the potential to use issue to manage tasks, specifically the creation of drawings to a design team.

Issues in BIM 360 Docs can be created without needing to be attached to a document. This allows users (Project managers) to create issues without it needing to be related to a document i.e. a task.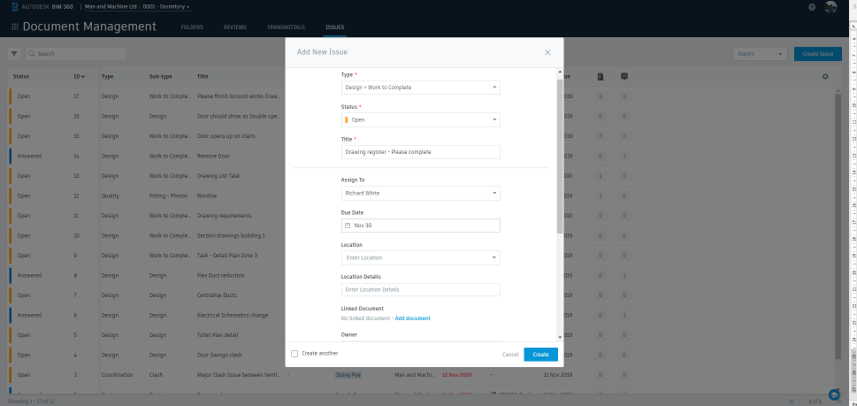 Once I have created the Issue I can attach the drawing register as an excel so that the user can update as they complete the drawings. This drawing register can sit within BIM 360 Docs folder that the project manager is subscribed to so that every time the user updates the spreadsheet, they will get an email to notify them of an update.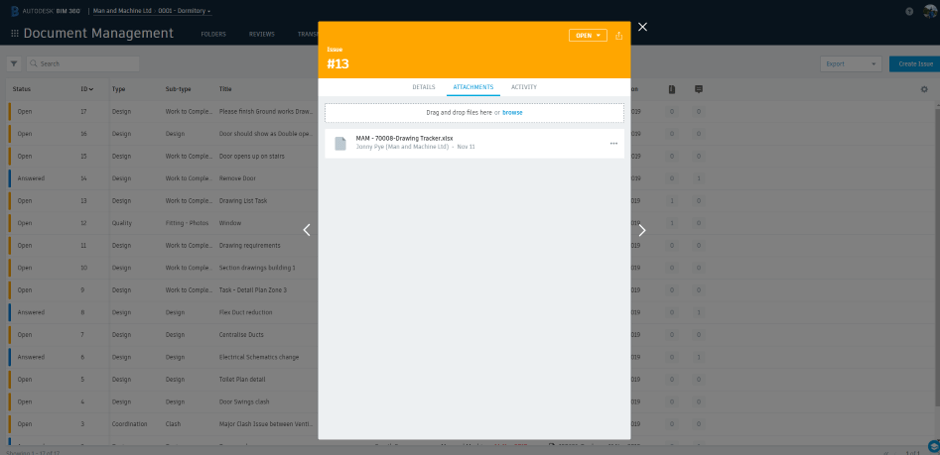 Within the issue the activity can be tracked, comments can go backward and forward between project manage and user so that a paper trail for the drawings are in one place.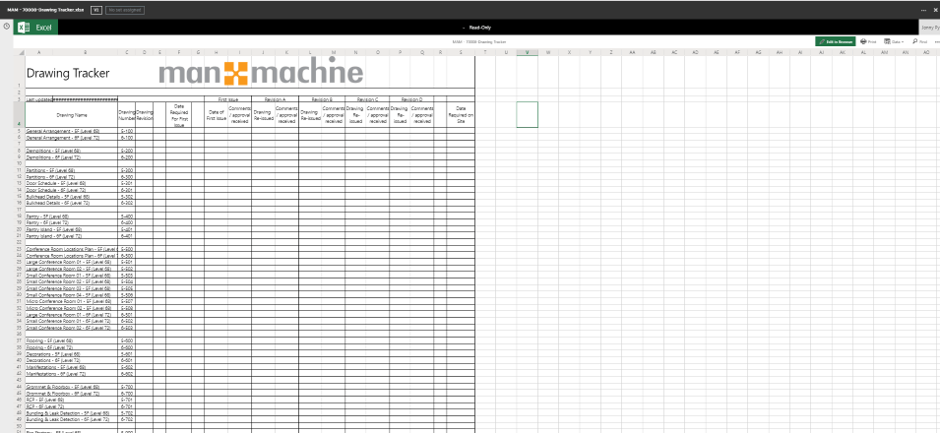 With the drawing register being placed in BIM 360 Docs and edited on the platform using the Office 356 integration there is only one copy that is always up to date. Versions are kept as the document is changed and multiple people can edit the sheet if you had a larger team working on drawings. All changes to the document are tracked and users that make edits will have their initials posted next to changes so that any hiccups can be sorted with the user or project manager.
By using issues all the communication between the user and project manager is in one place. If the design file in question was being hosted in BIM 360 docs this could also be linked to the issue so that the Project manager can check changes via the version compare tool in BIM 360 docs and create Mark-ups as the file is developed for even more control.
This is just one way of using issues in BIM 360 Docs issues there are hundreds more for more workflows, tips and tricks contact man and machine to discuss the benefits of using BIM 360 Docs
For more information on this blog post or if you have any other questions/requirements, please complete the below form: