New Properties in Vault!
Finally, it is here!! Within Autodesk Vault it has always been a pain to get the latest approver and latest release date into your drawing title blocks and revision tables, until now. In Vault 2022 we have two new and critical properties that we can utilise for exactly this.
In previous versions, using the out-of-the-box functionality it was possible to create a custom property which was manually filled in, this could be used a bit like a sign off, the approver would fill in their initials or name before releasing the approved files. These two new properties will automatically record the approver's Vault username and the date of approval, removing the need for the manual entry. The image below shows the new properties available in Vault 2022.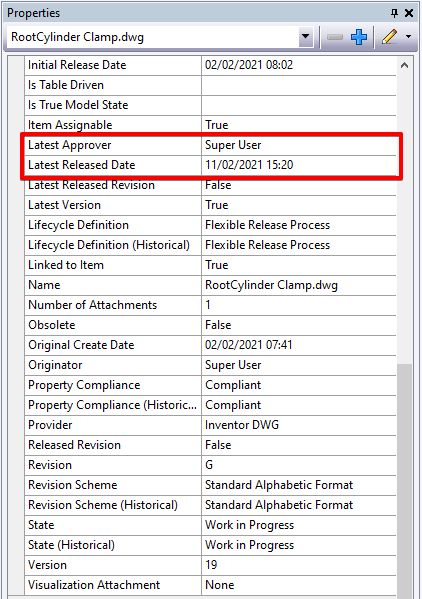 How do we get the latest approver and released date onto our drawings automatically?
Using these new properties, we can add them to the Vault revision table mappings as shown below or map them to the drawing title blocks through property mappings. If we are working with Vault Workgroup or Professional, we can utilise the Autodesk Vault Job Processor so that it automatically synchronizes and updates our drawings with the values in the Vault/file properties.
After you have configured your Vault revision table settings ensure that you match it up with your Inventor revision table style in the Style Editor, as shown below.

The image below shows my new Vault revision table in the review stage.

The image below shows the revision table after the drawing file has been approved and released by 'Reviewer' Vault user. The Job Processor has updated the revision table automatically.
To Conclude:
You can see in the table above the 'Reviewer' approved revision B on the 28/04/2021. The image below shows why these new properties are so important.

You can see that the latest version of the file was created by the 'Super User' in this Vault system, if you have been utilizing the Job Processor you will know that the Job Processor requires a user account that can edit the file in all stages of the lifecycle, this is so that it can edit the file properties and update title blocks and revision tables automatically, even at the 'Released' stage..
This has always been the problem; it was not possible to use the 'Created By' property in revision table or title blocks because the Job Processor (Super User) would always be the latest user to edit the file. Adding these new properties means that Vault will record the user who released the file, and we can utilise this in revision tables and in any other property mappings that we may find useful.
Happy Vaulting!!!
---
For more information on this blog post or if you have any other questions/requirements, please complete the below form: