Above a standard Subscription, Autodesk now offer the ability to subscribe to a Premium Plan. Designed to assist medium to large size organisations boost their operational efficiency, the Premium Plan offering is available to any business that manage 50 or more Autodesk Subscriptions and gives subscribers key benefits above that of a standard Subscription.
Single Sign-On Autodesk is introduced with Autodesk Premium plans, going above and beyond the standard 2-step verification offered within a standard subscription. Access your Autodesk subscriptions with added security using your one time sign on for all Autodesk software products.
24/7 Support gives you live access to Autodesk Support personnel at any time, including overnight and at the weekends for both general and technical issues. In comparison to your standard subscription, which is limited to business hours 8-5 in your local time zone.
Product Usage Reporting gives you access both visibility of, and the ability to export, product usage information by product and by user. This gives you the capability of looking at usage trends, identifying under or over utilisation and help identifying internal champions of power-users which can help drive internal processes and workflows forwards.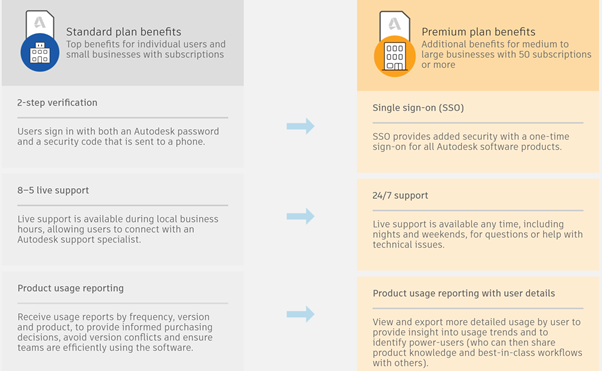 In summary, the Autodesk Premium Plan gives medium and larger businesses the tools they need to be more efficient and operate their license subscriptions more effectively. Only available for 50 of more users, this premium plan option does not affect those organisations with individuals or smaller teams, who are better suited to the standard Subscription offering.
All of Autodesk's Subscription Plans can be viewed and compared using the following matrix:
Autodesk Plans | Product Subscription Plans | Autodesk
For more information about Premium Plan, for instance pricing or how to get started, please don't hesitate to contact Man and Machine Ltd today.
---
For more information on this blog post or if you have any other questions/requirements, please complete the below form: