Are you still sharing files outside your Autodesk Docs and BIm 360 Docs by downloading and then sending by email or filesharing site?
Stop! you can do it directly from the project you are working on.
If you need to share files outside the project, I recommend ensuring that everyone working on the project has a license to access the information. In some cases, this may not be an option. So you will need to request that a Project Administrator turns on the share document publicly permissions. This will then allow all users to share files outside the project.
Warning! If this is turned on a member of the project with View + Export permissions or above will be allowed to share files with anyone outside the project. Either through the project directly or copying a link into an email.
This means once they receive the link they can view and download the files. They can also easily forward the email to anyone else and you will not know who has viewed or downloaded the files. So be very careful with this.
Remember you can always revoke the link if necessary.
BIM 360 Docs
Switch to the Project Admin module.
On Service (tab) > Select Document Management (left hand side).
Select the Advanced Setting (tab) along the top of the window.
Now turn on share document publicly.
You can come back at any time and turn it off to stop the sharing publicly.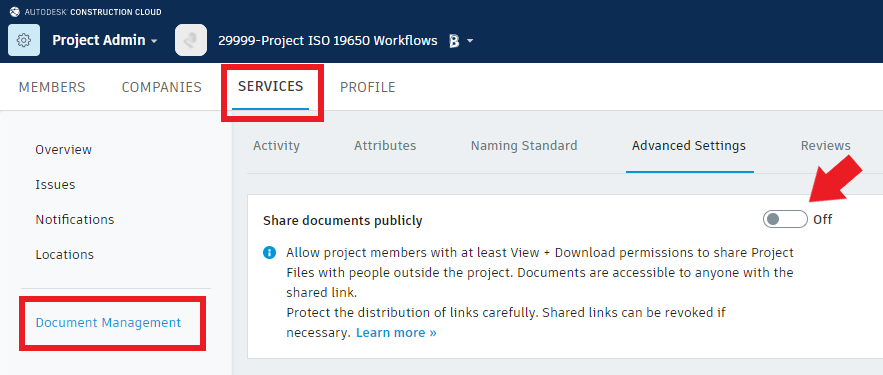 Autodesk Docs
How you get to the setting in Autodesk Docs is different but the functionality is the same.
In Autodesk Docs select Files area.
Select the Settings (tab) in the top right of the window. In the drop down select Advanced Settings.
In the Settings you can now turn on the Public links to sheets and files. You will also notice you can set the public link to expire in between 30 and 365 days from the date the link was generated. I would personally recommend the keeping this to a minimum (30 days).

IMPORTANT NOTE: Once switched on, all members will be able to share files outside the project who have View + Export permissions or above permissions.
Hope you found this useful please follow for more tips, tricks and information.
---
For more information on this blog post or if you have any other questions/requirements, please complete the below form: