BIM Ready Program

The BIM Ready Program is a pan-European initiative of the Mensch und Maschine Group, providing assurance that our program is international in nature, but also supported by local customisation, where appropriate. Here are some of the key features of the program:
It's a European-wide training program with over 7,800 graduates in Germany, Austria, Switzerland, United Kingdom and France.
It supports all domain-specific BIM disciplines.
Developed content that is aligned to industry best practices and BIM standards.
Digital training manuals accompany the course for every student.
BIM qualification (BuildingSMART Professional Certification) recognised by clients and employers.
UK Implementation that supports and promotes ISO19650 and the UK BIM Framework.
Do you have any questions about getting started with BIM? We're here to help. Contact us!
BIM Ready Structure
Our BIM Ready program embodies consulting, training and implementation services dependant on your specific requirements.
Consulting
When consulting, we really want to help you on your BIM journey, and provide a variety of services in the areas of BIM Discovery and Assessment, Quality Assurance, Information Management and CDE Deployment: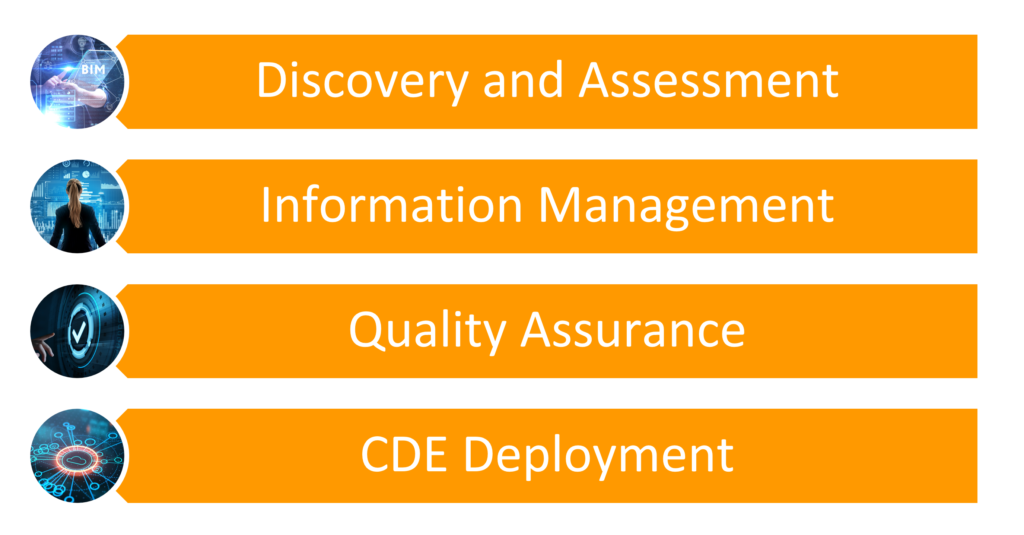 If you would like more information on these consulting services then please contact us, we are here to help.
Training and Implementation
Training and implementation are closely aligned to each other, especially when thinking about cloud-based CDE deployment and support. We will work with you to upskill your staff and support you to implement the correct workflows within the platforms. This is done by creating a customised services pack deployment.
Our preferred CDE platform is based on the Autodesk Construction Cloud and we will use it to integrate standards-based workflows, typically based on the ISO19650 series of standards.
If you just want to take training, the BIM Ready program is categorised into four service areas:
BIM Modelling: Software training aimed at helping you make best use of the tools available for the design, build and operational stages of the built assets. A small selection of these courses are shown below, but you can find more detailed information here.
BIM Coordination and Collaboration: Implementation services with embedded training to help you get the most from the design and build stages of the built asset. Our coordination and collaboration services are centred around Navisworks training and our Autodesk Construction Cloud solutions.
Long-Tail Services: Most customers require detailed and extensive training for the "power users" of their cloud-based CDE platforms. As more staff join projects or the use of the platform is extended across an organisation the wider (long tail) business users will also need to have accessible training, which we typically create as videos or pdf content. We also usually recommend a 3-month health check in order to interrogate, tweak or optimise the configuration to suit organisational or project change.
BIM Management & Certification: Highly customised training that has been developed with the latest best practices and standards taken from the UK BIM Framework and ISO19650. BIM Fundamentals is a great introductory course, and if you are interested in taking it further, the extensive 4-day BuildingSMART BIM Management Professional Certification course is the next step. This course allows you to get an internationally recognised qualification. You can find out more about Professional Certification here and more about our BIM Management and Certification Training here.