How to Copy Revit Standards to a New Project
Do you want to know how to copy project standards from one Revit project to another? Project standards include system families, line weights and print settings to name a few, and once set up in an existing project can be transferred to other projects saving you having to do the work twice.
In this blog I will show you how easy it is to transfer your standards to a new project.
What's included in Project Standards
Transferring project standards allows you to copy certain standards from one project to another, this is useful if you have a unique project which you don't have a template for, but as a one off you do need to use the same settings in another project.
Firstly we need to look at what settings are being transferred from an existing project. When transferring standards, the main settings are as follow but the list is quiet extensive:
•Family types (including system families, but not loaded families)
•Line weights, materials, view templates, and object styles
•Mechanical settings, piping, and electrical settings
•Annotation styles, colour fill schemes, and fill patterns
•Print settings
How to transfer Project Standards
First of all you need both Revit projects open at the same time, the existing project which we want to copy the project standards from and also the new project which we want to transfer the standards to.
With both projects open, follow the below steps:
1. In the new project, go to the "Manage" tab in the ribbon bar.
2. Click the button for "Transfer Project Standards"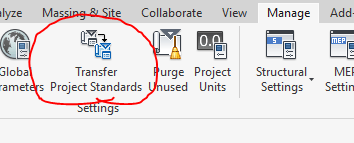 3. The "Select Items to copy" window will open, Make sure you have your existing project selected in the "Copy From" drop down menu at the top.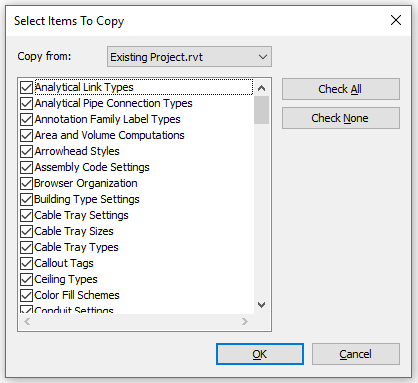 4. With your existing project now selected simply tick the boxes for the standards that you wish to transfer.
5. Once done selecting standards click "OK", Revit will now transfer your standards from the existing project to the new project.
You may get a prompt during the transfer process to say that an item being transferred already exists in the new project. It's up to you if you want to overwrite, ignore or cancel.
Conclusion
This is a nice and easy way to copy standards out of an existing project saving the need of having to manually setup a new project with the same settings twice. If you find that you are constantly copying project standards, creating a custom template with all your settings preloaded might be worth exploring.